This is a sponsored post written by me on behalf of Hallmark Hall of Fame. All opinions are 100% mine.
Okay, ladies. This one is for you today! After all, is there anything better than curling up under a blanket on a cold evening in front of the fire and watching a romantic chick flick? I think not!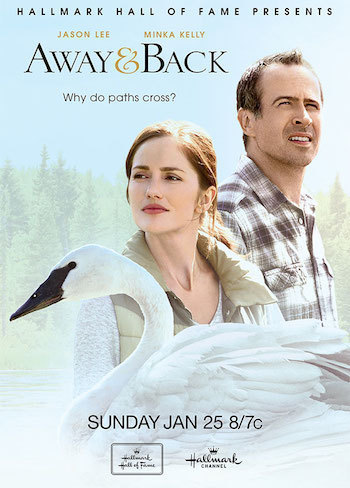 I don't get to watch much television these days, thanks in part to a lack of free time, but also because our t.v. always seems to be monopolized by cartoons, football, or kid-friendly DVDs. On the rare occasion that I do actually have the ability to sit and watch something of my choosing, I'm looking for a simple, sweet escape!
If you have a penchant for feel-good, wholesome love stories (like me!), then you probably already know that for more than 60 years, the Hallmark Hall of Fame has presented original films that entertain, enlighten, and inspire. It's a consistent go-to! And you know what? There's a new Hallmark Hall of Fame movie to get excited about.
Away and Back is the latest in the series and is no exception to the Hallmark Hall of Fame legacy. The movie stars Jason Lee and Minka Kelly, and is directed by Jeff Bleckner, director of Hallmark Hall of Fame fan favorites like Remember Sunday (2013) and Loving Leah (2009).
This is a heartwarming, family-friendly film that brings adventure, humor, and romance. There's something for everyone! When a flock of geese takes up residence on the Peterson family farm, no-nonsense ornithologist Ginny Newsom (Minka Kelly) rushes in to "save" the birds. The Peterson's 10-year-old daughter Frankie (Maggie Elizabeth Jones) falls in love with the geese, while her widowed father Jack (Jason Lee) wants nothing to do with know-it-all Ginny. Over time, Frankie and her brothers watch the initially hostile relationship between their dad and Ginny transform into something entirely different!
Be sure to tune in to the premiere of Hallmark Hall of Fame's Away & Back on Sunday, January 25th at 8/7 Central on Hallmark Channel. In the meantime, you can check out a preview of the movie here:
Are you going to tune in?  I am!  Plus, be sure to enter the AWAY & BACK Trailer – Share to Win Sweepstakes.  Visit the link, watch the trailer, sign up and share the trailer for a chance to win a family vacation!
Following the premiere, DVD sales of the movie will be available at hallmarkhalloffame.com.