They say that "April Showers bring May Flowers," which means that we're right in the middle of a very rainy time of year. And any mom with active young children probably cringes whenever there is a rainy day in the forecast. It's just not good when everyone is stuck inside and BORED. That's why I like to have a plan! Here are 30+ Rainy Day Activities for Little Kids to keep handy so that you can turn your next gray day into a play day!
1. Make and decorate paper airplanes. Then have flying races or see who can throw their plane the farthest. If you want to get fancy, there are some great airplane design instructions here.
2. Read the book, If You Give a Moose a Muffin by Laura Joffe Numeroff. Then go bake some muffins with your kids! Try these Two-Ingredient Pumpkin Spice Mini Muffins, or my Coffee Cake Muffins.
3. Make a sensory bin for little hands. Take a big plastic bin or a large glass baking dish and fill it with dried pasta, rice, cookie cutters in various shapes, Easter grass, and any other fun little objects that your kids can play with.
4. Read Dr. Seuss's book, Bartholomew and The Oobleck, and then go make some Oobleck! The instructions are here. Or, skip the book and just make the Oobleck! Your kids will still think it's great.
5. Throw some blankets on the floor and enjoy an indoor picnic at snack time.
6. Use the same blankets, bed sheets, and pillows to build a fort. It doesn't matter how old they are, I promise you every child loves to play in a fort! For older kids, give them some supplies and let them do the "building."
7. Make some drums out of oatmeal containers or other empty canisters. Let your kids decorate them and then march around the house to the beat of your drums! Instructions are here.
8. Play a "Guess that Smell" game. Blindfold your child and then present him with different scents. See how many items he can accurately identify based on smell. Some good options: peanut butter, soap or lotion, orange juice, and maple syrup.
9. Make vinegar and baking soda explosions! This was always one of my little brother's favorite ways to entertain himself indoors. Watching that massive fizz just never gets old! You can add some drops of food coloring for extra excitement, too!
10. Masking tape roads are quick and easy entertainment for little boys. Have girls in the house? Set up a little city scene along the roads with dolls, doll houses, pets, etc. See the post here.
11. Play the game Cranium Hullabaloo. This has been a really fun way to get my boys up and moving indoors in a (somewhat) organized fashion. It also helps preschoolers with following simple instructions.
12. Make Bath Paints using your kids' bath soap and a few other pantry ingredients. We've done this on a couple of snow days when I was really desperate for indoor entertainment, and the kids love it. They get a bath, so I've accomplished one of my tasks, but they also get to "play" in the process. The instructions are over at The Idea Room.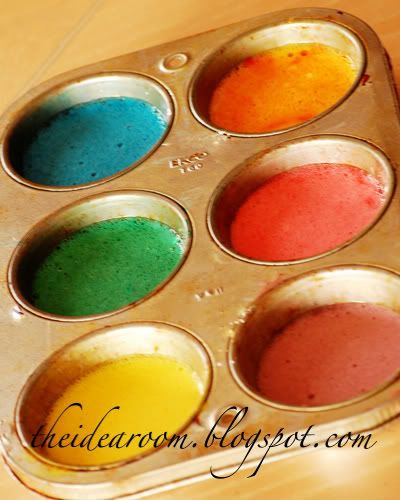 13. Make some play dough, and then create your own dinosaur fossils. Simple instructions can be found here.
14. Act out nursery rhymes! Let your kids get creative. You can pretend to be "Jack and Jill" going up a hill (or stairs?) to fetch a pail of water…
Or "Jack be Nimble, Jack be Quick" and have your little ones jump over a candlestick. Just don't light the candle.
Or "Little Bo Peep has lost her sheep," and hide a little sheep (or other animal) somewhere for your kids to find.
Or "Little Miss Muffet sat on a tuffet, eating her curds and whey…"  Then have another child come along and pretend to be a spider that frightens Miss Muffet away!
The options are endless, and I'm sure that you (and your children) can come up with ways to act out just about any nursery rhyme that you can think of!
15. Read Dr. Seuss's The Lorax, and then make some Truffula Tree Treats for snack. The recipe is here.
16. Make some large dice with different instructions on each square to get your kids moving indoors. Find the details for these Get Up & Move Dice here.
17. Make some Gak! Hours of indoor entertainment for the little ones! Find an easy recipe here.
18. Read Bear Wants More! by Karma Wilson and Jane Chapman. Then head into the kitchen and whip up some Honey Cakes with your kids! The Honey Cake recipe is here.
19. Egg hunts aren't just for Easter! Fill some plastic eggs with little goodies and then send your kids on a hunt throughout the house. They will love the competition and the excitement of finding these little treasures. If you're playing with multiple children, you can even assign a specific color of egg to each kid.
20. Set up a band, and use your kids musical instruments to play "songs." You can turn on the radio and sing or dance along with the real music, too. Don't have instruments? Pull out the pots, pans, and wooden spoons from your kitchen!
21. Pom-pom races! Use straws to blow pom-poms across the hardwood floors. See who can get from Point A to Point B the fastest!
22. Make a collage. This adds some variety to your kids' usual art time with crayons. Just clip some fun photos from old magazines or books, and give your kids a glue stick. It's fun to see what they come up with. Check out some of our collages here and here.
23. Make Glitter Slime! The "recipe" is here.
24. Help your kids practice their scissor skills. Draw lines on construction paper and allow them to cut along the lines. You can write the letters of their name, or for younger kids, just let them cut strips of paper and make "confetti."
25. Hide objects in a bag or pillow case and let your kids feel the objects to try to guess what's inside. Using their sense of touch only…no peeking!
26. Design an indoor "treasure hunt" for your little pirates! See our outdoor version here, which can easily be modified to use the rooms in your house.
27. Play a classic game of indoor "hide and seek." Another favorite in our house! It's also a great way to have the little ones work on their counting skills, since we always count to 10 (or 20) while the other child hides.
28. Put some masking tape in a straight line on your floor and allow your child to practice walking on the tape like a balance beam. My kids love to do this outdoors on boards or trees, so they have fun with it inside as well.
29. Indoor bowling! Gibbs received a set of small, plastic bowling pins (and a ball) for his third birthday (thanks, Uncle Jeff and Aunt Meghan!). This has been a fun way to get active inside. If you don't have any in your house, I have also seen folks make their own using plastic soda bottles filled with a little bit of sand. We set them up at one end of a hallway and roll the ball until they're all knocked over. Then RUN to set them up and start over.
30. Toilet Paper Trail. Moms, you will have to sacrifice a roll of TP for this one, but I'm guessing that if you're desperate enough, you just won't care! Unroll the toilet paper and wind it through your house…in different rooms, up the stairs, etc. Then let your kids follow the "trail," scooping up the TP as they go. Maybe even put a prize at the very end!
31. Read If You Give a Mouse a Cookie by Laura Joffe Numeroff, and then go bake some cookies. Try my Cherry Almond Cookies or my Sprinkle Coated Sugar Cookies.
Enjoy this post? Join me on Facebook and on Pinterest to keep up with our adventures!